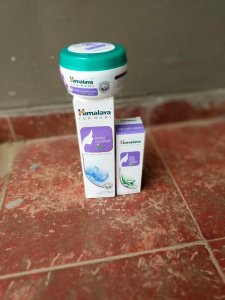 Himalaya is a worldwide known healthcare company that deals into a wide range of ayurvedic and cosmetic products. All of us might have purchased products manufactured by Himalaya at some or the other time. And this makes it a well-known brand not only in India but also around the world. The history of Himalaya health care dates way back in 1930's, when the founder of the Himalaya Mr. M. Manal started researching on herbal medicines. The research done by the founder and its outcome lay the founding stone of the Himalaya healthcare products. And now Himalaya has entered as a savior into the world of moms with a wide range of products. Here I am writing down my personal experience with their products in Himalaya for moms: Sample review.
Himalaya's Products During Pregnancy
Women's body is wonderful and is created for bringing new life into the world. When you bring the new life into the world, you take care of that being. And get the best products for your baby. But, during pregnancy, you also need to take care of yourself and your body. Only a healthy mother can bring up a happy and healthy kid. Himalaya has come up with a range of products for moms during pregnancy and after pregnancy. They have combined their ancient research and today's conventional method and come up with this range of products. These range of products include:
Himalaya for moms Toning massage oil

Himalaya for moms soothing body butter

Himalaya for moms anti-rash cream
Himalaya for moms toning massage oil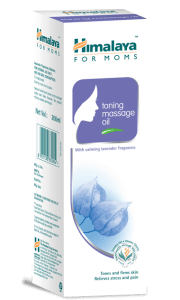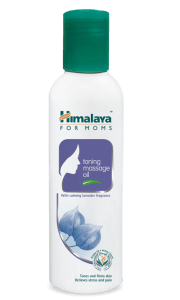 Getting a good massage after delivery is very important and plays a vital role in strengthening the muscles, reducing swelling and pain, good secretion of milk and getting the uterus back into its position. The Himalaya  toning massage oil can help you with this.
Key ingredients
The key ingredients include sesame seed oil which is considered the best oil for skin firming in Ayurveda. It soothes and relaxes the skin and moisturizes it. Thus preventing it from infection. The vitamin E in this oil works as an antioxidant. Country mallow known as Bala in Ayurveda helps in the strengthening of the muscles. Aloe vera helps in healing of the body and soothes the skin. Winter cherry has skin conditioning properties which soothe and calms the skin. It helps in the rejuvenation of the skin.
Pack size: 200 ml
Price: Rs. 200
Directions of use:
Apply gently all over the body with gentle massaging before bathing. For best results include it in your daily routine.
Color texture and fragrance
The massage oil is colorless with an oily texture and a light lavender fragrance
Himalaya for moms soothing body butter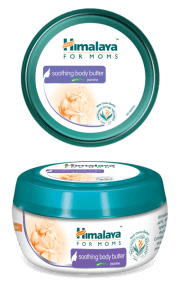 During pregnancy, the mother's body skin stretches to its maximum limit. During stretching, the skin tends to lose its moisture and gets dry. This gives itching sensation and stretch marks on the skin. Even after delivery, when the skin is getting back to its normal stage, the skin tends to lose moisture.  The soothing and moisturizing contents in the body butters helps repair skin easily and get back to its normal shape.
Key ingredients
Cocoa butter
Cocoa butter has a natural antioxidant tendency. It soothes hydrates and balances the moisture and the pH level of the skin.
Glycerin
Glycerin helps lock the moisture and soothing tendencies into the skin and helps to maintain a good balance in the skin.
Price: Rs. 200
Pack size: 100ml
Color consistency and aroma
Color is white, consistency is creamy and it has a mild and refreshing lavender
Himalaya for moms anti-rash cream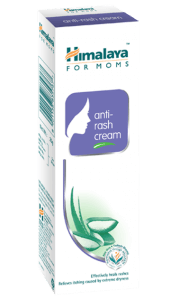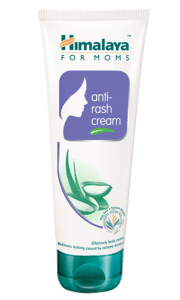 During pregnancy the body weight increases to its maximum. Due to the increase in body weight, the skin may get folded at some areas of the body and due to sweating, you might start getting rashes in armpits, under the breasts, under the tummy, and between the thighs. The Himalaya anti-rash cream has herbal properties which help in relieving rashes. It gently soothes the skin. It also helps in relieving dermal cuts and scratches.
Key ingredients
Yashad Bhashma
Yashad bhashma has antiseptic properties, which helps in treating eczema, itching and other skin diseases. It locks in moisture.
Manjishtha
It has antioxidant and anti inflammatory properties and it is useful in providing a clear skin.
Aloe Vera
Helps in healing wounds and soothe and soften skin.
Almond oil
It is rich in vitamin A, B and E. it gets absorbed and helps to maintain skin structure and moisture of the skin. It makes the skin soft and supple.
Pack size: 50 gm
Price: Rs. 150
Color and texture
The texture of this sample is creamy and white in color.
Why to choose Himalaya?
As soon as a woman gets pregnant, she becomes very careful in what she is eating, drinking and applying on the skin. Each and every mom want to care for the baby and does not want to hurt the baby and fetus growing in her womb. But, that does not mean that a mother should stop carrying for herself. The scientist at Himalaya has developed and come up with the solution for this. The scientists have combined the suggestions made in Ayurveda for women care products and come up with a wide range of products. These products are totally natural and help in providing good and proper care for the mothers.